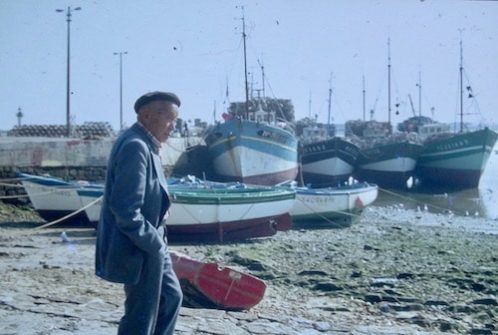 VITALIS in the Finister port of Moguériec in 1977
The Marines: a theme that VITALIS loved
VITALIS loved the sea. Living close to the sea was undoubtedly a major factor in his choice to settle in Brittany, in Plestin-les-Grèves. He was also an excellent sea angler, especially for the noble sea bass. This quality also served him well during the lean season: VITALIS sometimes sold his fish to the people of Plestin when he was in need.
VITALIS was particularly fond of the small Finisterian port of Moguériec, with its trawlers moored at the quay, and framed by cliffs on the horizon – which VITALIS would often use in his marine horizons.
VITALIS painted seascapes in all his styles, but particularly in his pointillist style which allowed him to express deep ultramarine blues and skies streaked with large geometric bands of yellow, pink and blue, as in the example below ("Vue du pays de Plestin" – 1967-2).
"…while the sky and the sea, as if seen through a broken mirror, are broken down into a multitude of diaphanous facets" – extrait du livre "Peintres des côtes de Bretagne n°2" Léo Kerlo – Jacqueline Duroc –

First Marines: Sailboat races

The earliest known VITALIS paintings are of sport or leisure sailing ships, all sails out, full of wind. Are they souvenirs of the United States? The "three sailboats" of 1930 evoke the famous "J Class" of the America's Cup, while the backdrop of the "Marine" (date not known) does not recall a French landscape. In 1947, the "sailboats" are no longer sporting but massive fishing boats.