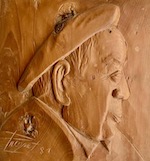 Présentation de l'association les amis de Macario VITALIS
This site is created and managed by the association " Les amis de Macario VITALIS ". Created in July 2020, the non-profit association aims to promote the study and dissemination of the work of VITALIS: the talent and personality of VITALIS deserve to be better known and appreciated (See the statutes).
The dedicated website (www.macario-vitalis.com) is one of the main vehicles of the association. It publishes a periodical bulletin, which includes news of sales of VITALIS paintings: each month, several paintings are sold by auction houses. The publication of a book on VITALIS is also envisaged.
Do not hesitate to contact us by writing to the mailbox les-amis-de-vitalis@ecomail.bzh.
In order to carry out all of this work (website maintenance, subscriptions to auction house websites), an annual contribution (20 euros) is requested for membership to the association.
Membership to the association is available online : https://www.helloasso.com/associations/les-amis-de-macario-vitalis
or by contact form below.