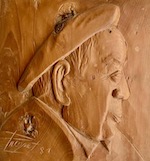 Bust of VITALIS sculpted by his friend Lucien PRIGENT

The biographical references are taken from the article "Macario Vitalis – painter of Brittany (1898-1989)" by Professor Yves COATIVY, published in the Cahiers de l'Iroise n°221 – July-December 2015 (see full article at the bottom of the page). Until the installation in Plestin-les-Grèves in the late 1950s, the biography of VITALIS remains imperfect. A work with Professor Coativy is in progress.
Biographie du peintre Macario VITALIS
March 8, 1898 (or 1897, as the American immigration documents indicate?) birth of Macario VITALIS , son of Andréa VITALIS and Laura CRUZ, in Lapog (today San Juan), Ilocos Sur region of the Philippines. His parents owned a store and belonged to the middle class. VITALIS went to school in Lapog (elementary and middle school) and then in Vigan (high school). During this time, his brother Estolito (September 1901) and his sister Segundina CRUZ VITALIS (January 1913) were born.)
1918 : VITALIS left the Philippines with a friend for the United States, where he arrived in San Francisco on June 20, 1918. He studied at the School of Fine Arts in San Francisco (California) from 1920 to 1922, then at the School of Fine Arts in Philadelphia (Pennsylvania) from 1923 to 1924. To pay for his studies, VITALIS worked, in particular in palaces as a lift attendant.
1925 : after a possible passage through London, VITALIS arrived in Paris in August 1925. He settled in Montmartre, which he walked around, as well as the Pont des Arts, as an artist (numerous drawings from this period). These were very difficult years financially.
Around 1935-1936: VITALIS met Camille RENAULT in Puteaux (92 Hauts-de-Seine). He discovers this astonishing character who runs the restaurant "Big Boy" (see menu Useful Links), where the Cubist group of Puteaux, known as "the Golden Section", meets. VITALIS is particularly fond of the painter Jacques VILLON (see Useful Links menu) who will have a great influence on VITALIS' work.
Drawing of the "Big boy" by VITALIS in 1937

1938 : VITALIS discovers Plestin-les-Grèves while staying in Locquirec, on duty for a suspicious husband…
1941: VITALIS was arrested by the Germans in July 1941 and locked up in a stalag in Compiègne until August 1944. His arrest was linked to his American nationality, the Philippines belonging to the United States from 1898 to 1946.
Gouache of a "chamber in Compiègne" painted by VITALIS in 1943

1945: VITALIS stayed with his friend Camille RENAULT, in a maid's room above the famous "Big Boy" restaurant. It was in this restaurant that he exhibited and sold his paintings. He is part of the family (see the bulletin on this friendship). He will stay at this place until 1957.
Summer 1946: VITALIS rediscovers the town of Plestin-les-Grèves, in the Breton Trégor, as a guide for a summer camp in the town of Puteaux. Thereafter, he regularly made several short stays in Plestin, from 1947 to 1956.
1957: VITALIS settles permanently in Plestin-les-Grèves, in the loft of the second house on the left of the photo. VITALIS also continues to return regularly to Puteaux, to Camille RENAULT, who still offers VITALIS's paintings for sale in his two restaurants (the "Big Boy" in Puteaux and the "Bateau de Pierre" in Broué, in the Eure et Loir).

End of 1962 : VITALIS, who continues to return regularly to Puteaux, to Camille RENAULT, discovers in Paris the Filipino dance troupe "Bayanihan" at the end of 1962. He attended all their performances and became friends with the troupe. At the end of 1962, he followed the dance troupe by boat back to the Philippines. It was his first reunion with his native country since 1918.
January 1963: an exhibition is organized in Manila. All the paintings exhibited were sold on this occasion. Disappointed by this return, VITALIS returned to France after five months and landed in Marseille in June 1963. He then returned to Plestin.
1965: VITALIS moves to the house in Guergay (a locality in Plestin-les-Grèves), where it will reside until its final departure for the Philippines (March 1986).

1967 : The commune of Plestin orders two huge paintings from VITALIS to decorate the walls of the municipal council room.
1975: VITALIS is distinguished as an "honorary citizen" of Plestin-les-Grèves. He is still the only person to have received this recognition. Touched by this mark of friendship, VITALIS organizes a contest that calls on the population of Plestin to choose among 5 paintings the portrait of a Plestinian woman, which he offers to the town hall of Plestin.
Also in 1975, the retirement home orders three very large paintings from VITALIS. A new contest – this time of criticism – is organized among the population of Plestin (see the bulletin n°4 on this subject).
April 1982: For its 85th anniversary, VITALIS receives a visit from the Philippine ambassador to France. A Philippine television crew came for the occasion. On this occasion also, his sculptor friend Lucien PRIGENT unveils the bust of VITALIS that he offers to the commune of Plestin – and which today is exposed in the new nursery school of Plestin "Macario VITALIS".
July-August 1984: VITALIS retrospective exhibition at the cultural space "Ti an holl" in Plestin. Great popular success.
June 1986 : VITALIS leaves Plestin for good to live with his sister in Iligan City (Philippines). He will come back twice to Plestin to see his friends during short stays, in 1987 and 1988.

Last palett of VITALIS in Plestin

August 1986: great retrospective exhibition VITALIS in Manila. More than a hundred paintings are exposed.
1987 and 1988: VITALIS holds two new exhibitions in Manila. The first, in 1987, presents his series "Galaxies". The second, in 1988, brings together his last series "Coconuts".
June 8, 1989: VITALIS dies in his native country, a few months after his sister. They are both buried side by side in the Iligan City cemetery.

VITALIS tombstone at Iligan City Cemetery (Philippines)

The entire article by Yves COATIVY, the most complete to date on the life and work of VITALIS, is available here with the kind permission of the author and the Société d'Études de Brest et du Léon (SEBL).