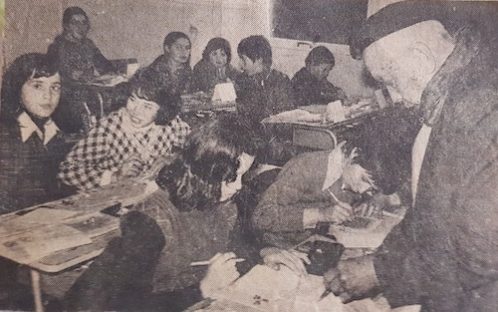 VITALIS in an art class at Plestin-les-Grèves secondary school

Still lifes : a theme mastered by VITALIS
VITALIS's artistic training was academic during his 7 American years (1918 to 1925 – at the San Francisco School of Fine Arts, then the Philadelphia School of Fine Arts). And to obtain it, he made great sacrifices: he followed it alone, as a young Filipino immigrant with no money, working at night at odd jobs (including that job as a lift operator in a San Francisco palace that he liked to tell). VITALIS' creation of "still life" is naturally part of this culture, but not only: he particularly liked Paul CÉZANNE's still life paintings of fruit (apples, oranges, etc.).
… a foray into the abstract …
Abandoning his "Montmartre-Ecole de Paris" style, VITALIS turned to cubism in 1945, under the influence of Jacques VILLON, whom he met in Puteaux at Camille RENAULT's "Big Boy" restaurant. Here are three still lifes, including an unusual "fried egg"…
… and other culinary themes !

VITALIS was greedy and gourmet. His red lobsters (cooked) are just waiting to be eaten with a twist of lemon and a good glass of wine. His "nature with a bottle" of 1940 recalls, in theme and composition, the famous still lifes of Paul CEZANNE.