BULLETIN N°3 – 2021 March

VITALIS and Camille RENAULT
Before moving to Plestin-les-Grèves in 1957, VITALIS lived for nearly 20 years under the roof of the restaurant owner and patron Camille RENAULT in Puteaux. This long period of life is not well known, even though it was decisive in VITALIS' artistic career. Taciturn, VITALIS confided very little about this period to his friends in Puteaux. This does not leave us indifferent as to why VITALIS left Puteaux to join Plestin: it is obvious that a great human closeness existed between VITALIS and Camille RENAULT.
The virtual visit of the museum of the "House of Camille [1]" mentions that "in the glass room, the life of this baker's son is presented through a series of seven paintings made by his friend Macario Vitalis, whom he graciously housed in a maid's room for 18 years. These canvases recounting the major stages of his life until the opening of his restaurant were his thanks.
The article devoted to Camille RENAULT in the "Bonjour Dimanche [2]" of March 6, 1949 indicates in conclusion that "Friend of artists, his current "foal" is a talented Filipino painter: Vitalis".
On the blog dedicated to Camille Renault [3], two accounts mention Vitalis. On the one hand, M. G. Alloyeau states: "I was an apprentice at Camille Renault in 1961-62-63 (…). I have many good memories in Puteaux and at the Bateau de Pierre where I also worked from time to time. It was a big family with Mr. VITALIS, of whom I have a painting. On the other hand, Mr. Philippe Courtois evokes "Vitalis, a Filipino painter who, following a big sale of his paintings, rented the Champs-Élysées theatre to have the Philippine national troupe dance there [4].
Letter adressed to Vitalis by his sister to the adress of the « Big Boy » in 1962 (thanks to M. Alloyeau)
Vitalis (seated in the right) camping with the Camille RENAULT family (photo M. E. Ledoigt)
WHO WAS CAMILLE RENAULT ?
This presentation is based on an article by Muriel Damoiseau "Camille Renault, restorer in Puteaux, collector and patron of the arts (1904-1984)", which was written by Louis Kammerlocker and published in the March 1991 issue of the Lettre de la Société Historique Artistique et Littéraire de Puteaux – Shalp.
Restorer of the rue de la République in Puteaux for 42 years (1925-1967), Camille Renault, a great patron and collector, made his establishment a great meeting place for painters and art lovers during the inter-war period, when Puteaux was still only an industrial town.
He was born on 2 May 1904 in TRIE CHATEAU, near Gisors, to parents and grandparents who were bakers. During his childhood, he attended the local school in Gisors. When his parents divorced, he moved to rue Clauzel in Paris (9°) to live with his uncle, Mr LEDOIGT, a polytechnician and general secretary at the compagnie de l'Est, a great lover of classical painting, who introduced him to painting during a visit to the Salon des Artistes Français.
This was the beginning of a passion that would never leave him. This street was home to many colour merchants. At number 14 was the shop of Father Tanguy, which was the meeting place for the most important representatives of the Impressionist, Neo-Impressionist, Symbolist and Nabi movements. Émile Bernard said: "The Pont-Aven school was born in Father Tanguy's shop".
View of a Normand village (Vitalis [5] )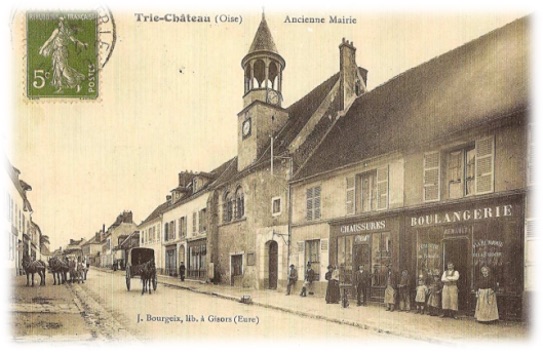 Camille RENAULT et ses parents devant la boulangerie familiale
At the age of 14, he was an apprentice pastry chef at Bourbonneux, a famous pastry shop near the Saint Lazare train station. During his free time, he discovered the art galleries of the faubourg Saint Honoré. At the age of 17, he was an apprentice cook at the Marguery restaurant on the Boulevard Bonne Nouvelle. He often visited the most famous galleries of the time, Vollard and Sagot, and was fascinated by Van Gogh, Gauguin and Matisse, even decorating his dishes with Fauve paintings. At the end of the Great War, he was a cook at the restaurant Le Cabaret on the Champs-Élysées. At the age of 20, when he already weighed 120 kg, he did his military service in Morocco, as Lyautey's cook at the General Residence in Rabat.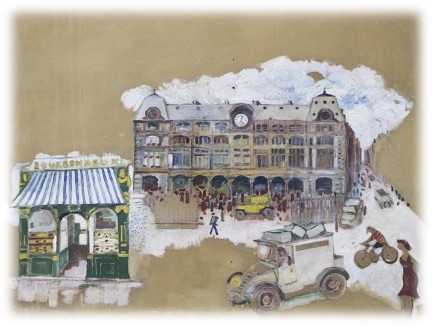 La Boulangerie Bourbonneux – Vitalis
Le Colonel Lyautey et le palais de Rabat – Vitalis
Released from his military obligations in 1925, he took over from Monsieur Deveau, owner of a café-restaurant in Puteaux located at the corner of rue de la République and rue Édouard Vaillant, whose large back room was used for weddings and banquets, first communions and for popular education conferences organised by the Germinal Association. With his imposing presence (he weighed more than 190 kg [6]), he chose the nickname "Big Boy", which was also the sign of his restaurant.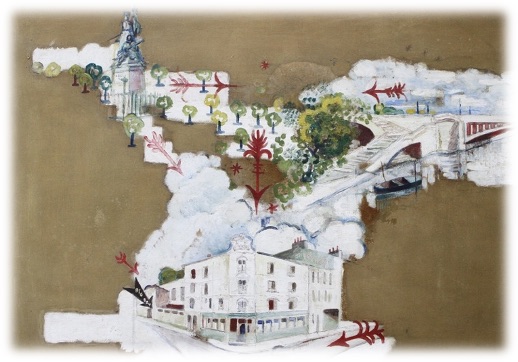 Restaurant Camille Renault – Vitalis
« Flyer » du restaurant Camille Renault
(merci à M. G. Alloyeau)
On 18 January 1928, he married Madame Suzanne RUFFET who, unfortunately, did not share the same taste for painting as her husband. At the same time, not far from his restaurant, the "Puteaux group" met, which brought together a number of painters who were passionate about cubism, Villon, Kupka (the precursor of abstract art, he lived in Puteaux, rue Lemaître, from 1906 until his death), Léger, Gleizes, Metzinger. Jacques Villon, Camille Renault's neighbour, came to dinner every Monday at Big Boy's with Lhote, Kupka, Gromaire…and always offering a painting for every hundred meals.
Jacques VILLON au restaurant « Big boy »
Camille Renault et Jacques VILLON au restaurant « Big boy » – 1957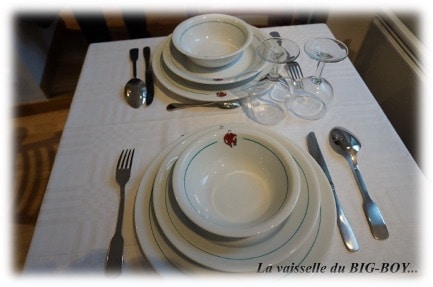 Les assiettes étaient siglées de la silhouette de Camille Renault
Camille Renault dans son restaurant de Puteaux devant son portrait peint par J. Villon – 1957
Indeed, Camille Renault received these young artists with open arms with his famous "cardboard contract". With this contract, the restorer gave the painter a box of white paper, brushes, a box of gouache and said to the artist "since you are here, you will do a little drawing. For example, horses or a woman at the window", or "Wouldn't you like to do my portrait? To pay for his meal, the artist would draw what he wanted and put it in the box. Many painters drew Camille Renault. Among them were Jacques Villon, Léger, Braque, Derain, Dufy, Kupka, Dubuffet, etc.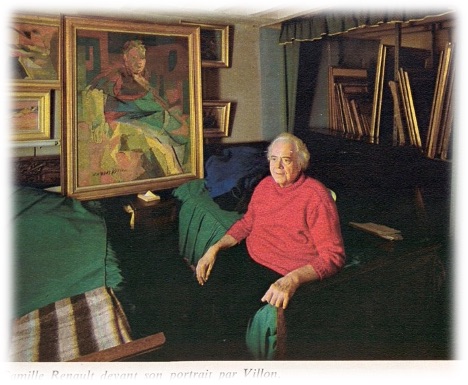 Camille Renault dans son « antre » du sous-sol du 133 Boulevard Haussmann à Paris devant son portrait peint par J. Villon – numéro 243 Magazine « Constellation » – juillet 1968
Portrait de Camille Renault (hst 130 x 97 cm) – 1944 – J. Villon – tableau qui fait partie des collections du Centre Pompidou, et qui est exposé au musée de Rouen
The growing fame of "Big Boy" attracted other painters such as Picabia and Vitalis and many other artists frequented his establishment. His restaurant also attracted the whole of Paris to Puteaux to see the paintings on display, to chat with the artists, but also to taste the "croustade Kupka", "turbot Villon", "soufflé Kandinsky". Sometimes a customer would leave having bought a painting.
He then became the most portrayed man in France. Reynold Arnoux, during exhibitions in London and the USA, showed about 300 paintings of Camille Renault. But this patron, who offered meals, paint, or paintings without financial compensation, rarely sold works and only when needed.
During the German occupation, he closes his restaurant and takes care of the canteen of the Société Générale de TSF requisitioned by the Germans. After the war and until 1959, the restaurant once again became a fashionable meeting place for new artists and intellectuals such as Sartre, Malraux and Camus. Faced with the ever-growing and impressive number of paintings, Camille Renault, who had one of the finest private collections in the world, bought a farm in Broué, in the Eure et Loir, in 1952, where he added a new building, "Le bateau de pierre" and "La Galerie", in order to be able to exhibit several hundred paintings.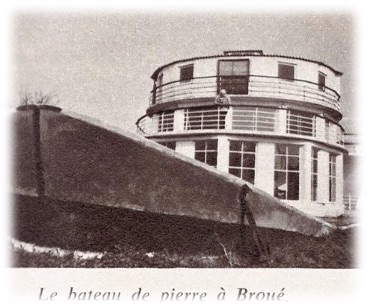 Camille Renault « aux commandes » de son Bateau de pierre – numéro 243 Magazine « Constellation » – juillet 1968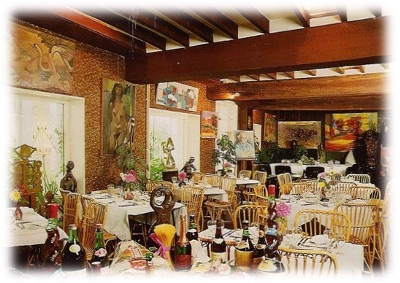 La salle de restaurant du Bateau de pierre – le deuxième tableau au fond à droite est « Amazons 2 » de Vitalis

« Flyer » du Bateau de pierre (merci à M. G. Alloyeau)
The "stone boat" was often transformed, some of its plans, unsigned, are attributed to Le Corbusier. Many artists (Matisse, Le Corbusier, Léger, Villon, Picasso, etc., had their room with their name on it, and one of their works hung there). From then on, he divided his life between Puteaux and Broué, but in 1959, a heart attack forced him to slow down his activities. A second heart attack and above all the death of his friend Jacques Villon [7] decided him to change his activity. In 1967, he sold his restaurant to buy an exhibition gallery at 133 Boulevard Haussmann in Paris and left Puteaux for good to live below his gallery, in a two-room apartment without windows, but decorated with paintings. Always a patron of the arts, he continued to help new painters such as Marzeille, Perre, Chevolleau and during the last years of his life, he spent his time between Paris and Broué where he went mostly at weekends.
In 1977, he was admitted to the hospice in Dourdan where he remained for 7 years until his death on 1 March 1984. He was buried in the cemetery of Trie Château, his native village in Normandy. We do not know what happened to his collection, which was nevertheless rich in nearly two hundred paintings [8].
VITALIS ET CAMILLE RENAULT : UNE HISTOIRE QUI RESTE À COMPRENDRE ET À RACONTER

Both Vitalis and Camille Renault have a story to be understood and written. No book exists on either of them, although we are dealing with two astonishing and intriguing characters. Their meeting must have taken place around 1935-1936, in reference to the "reclining nude" painted by Vitalis in 1936, the model of which is said to be the wife of Camille Renault.
Camille Renault put a mark, his "signature", on the back of the paintings in his personal collection: a "bull's head". Several of Vitalis' paintings have this signature. Without being certain, the numbering should logically follow an ascending order. But is there a list of all these paintings?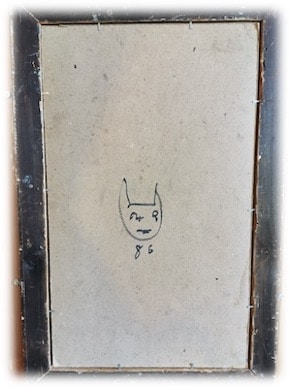 It is obvious that Vitalis' artistic development benefited from his long stay in one of the cultural hotspots of the time. He came across many great names in painting and literature, and was particularly influenced by Jacques Villon. The comparison of the two paintings below leaves little room for doubt, right?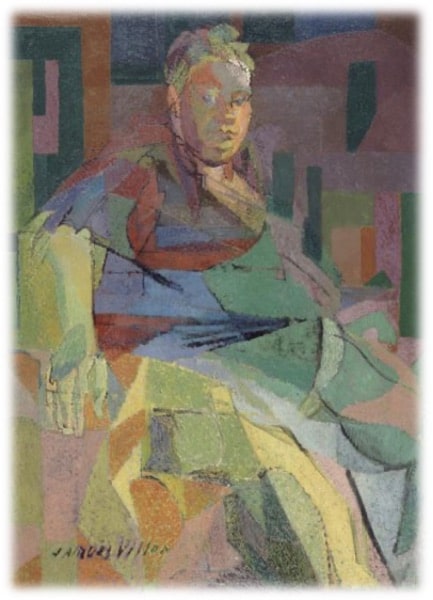 Portrait de Camille Renault – 1944 – J. VIILON