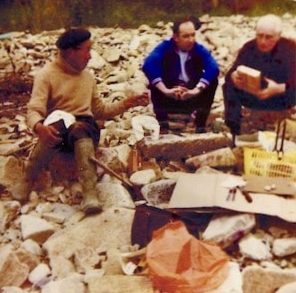 Macario VITALIS (on left) wtih his Plestinians friends Yvon DANIEL et François ALLAIN on the beach of Poul-Roudou (Locquirec – 29) near 1970
Nouveautés du catalogue des oeuvres de Macario VITALIS
The association spontaneously receives images of paintings from their owners. The follow-up of auctions also completes the census of VITALIS paintings. This page proposes the new entries in the catalogue raisonné of Macario VITALIS. Enjoy your visit!
A sketch of "Girl in yellow dress", circa 1948
A "Breton farm", circa 1937-1940
The "View of a Breton port", painted by VITALIS in 1948 : it is Locquémeau (22) near Plestin.
A new "Port de Locquémeau" from 1948, very similar to the painting sold in last December

Painting put up for sale by Thierry-Lannon (Brest) in May

A "Village" from 1954, emblematic of the VITALIS style at that time
Painting sold by ADER on 15 March 2022
Addition of February 2022
A very original "Port de Locquémeau" from 1951, précursor of the "Poissonnières" series – in the foreground –
A "Breton landscape", painted by VITALIS in 1983, which belonged to the famous Filipino painterJosé JOYA
Addition of December 2021
A "European landscape" painted by VITALIS in 1942 while interned in a camp at Compiègne
Sold in the United States

Addition of December 2021
A beautiful restoration of the "Portrait of a woman with a scarf" – undated painting
Addition of September 2021
A superb portrait of a "Filipino woman with a fruit basket", painted in 1938
Painting sold by ADER on 24 September 2021 by ADER (Paris)

A still life of 1966, titled "demestiation not" ain the back
The "Curés' beach" of Plestin-les-Grèves, circa1939
Addition of November 2021
An astonishing "Pity for the monks", in the pointillist style of 1976
Addition of September 2021
A beuatiful representation of the port of Toul-an-Héry (Plestin), painted in 1969
A "Urban cubiste landscape", from 1963
A superb "Cloth merchant", circa 1952