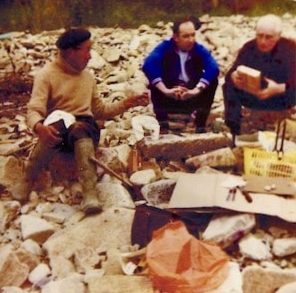 Macario VITALIS (on left) wtih his Plestinians friends Yvon DANIEL et François ALLAIN on the beach of Poul-Roudou (Locquirec – 29) near 1970
Nouveautés du catalogue des oeuvres de Macario VITALIS
The association spontaneously receives images of paintings from their owners. The follow-up of auctions also completes the census of VITALIS paintings. This page proposes the new entries in the catalogue raisonné of Macario VITALIS. Enjoy your visit!
Two portraits " of character " of children of reinds from Plestin, made in 1979
Portrait of Miss ORY – 1955
Portrait of the young girl of the family that hosted VITALIS in Plestin from 1953

A sketch of "Girl in yellow dress", circa 1948
Breton farm – circa 1937/1940
View of a Breton port (Locquémeau – 22) -1948
Landscape of snow in Britanny – 1985.

Trégorois landscape – unknown

Locquémeau – circa 1951/1952
Port de Locquémeau – 1948

Breton landscape – 1983, which belonged to the famous Filipino painterJosé JOYA
European landscape – 1942
A beautiful restoration of the "Portrait of a woman with a scarf" – undated painting