AN EXPLOSION OF SHAPES AND
C
O
LO
RS
!
VITALIS exhibition from 9 April to 5 June 2022 in Puteaux

Nouveautés du catalogue des oeuvres de Macario VITALIS
Small virtual visit of the exhibition
Interview with the curator of the exhibition, Christine Thorailler

PAINTINGS NEVER BEFORE SHOWN TO THE PUBLIC !
Click on the image to access the sheet presenting the painting
A "Still life with fishes" from 1959
An undated "Cubist port", wich undoubtedly marks VITALIS' first steps towards cubism

A brilliant "Still life with a bunch of lilacs", undated
A "Dancing couple", probably painted around 1949-1950

This superb "Laundress" from 1947
A "Market scene", undated, but possibly from 1963
A "Horse race", undated …

… which could have found its place in the "Horse barn" created by Camille RENAULT in his "Stone boat" … possibly alongside this "Horse training" by Jacques VILLON in 1950.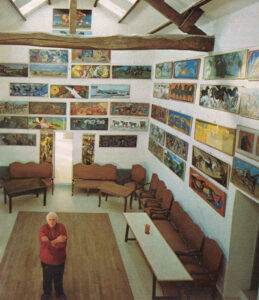 This undated "Little shopkeeper's market"
"Women in the market" also undated

This elegant "Philippine women's ballet", made in 1965

An amazing "Nude with a guitarist" from 1946
A "Still life with a bouquet of flowers", from 1936, in the classic École de Paris style – Montmartre

And finally this "Fairground festival", undated, possibly from 1951.